Welcome to 21cWiki

Welcome to the 21c wiki! This is the off-site game based on the 21c website. This is the main information center for all things 21c from hsitory to customized country profiles, this is the place to read up and search for information. Enjoy your stay and if you have any questions, please ask the administration.
From today's feature article
---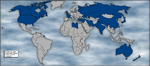 Round 7 is a round of 21c which was started on November 18th, 2013. For more information regarding the round please see the round 7 page.

Other featured articles: NONE - NONE - NONE
---
What is 21c?
---
21c is an electronic media political simulation game. 21c was first started in the year 2008 and since then the member base has grown to 460 registered members. 21c is based on the role-played simulation of current world governments by various different players. Each player is allowed to claim a certain nation of their choice and are allowed to control one country at a time. The player is then allowed to manipulate virtually every aspect of their nation. This includes managing a domestic ministry, developing foreign relations, and taking charge of their nation's military, among many other everyday challenges faced by current world leaders. Players are allowed a certain amount of freedom in controlling their government and the relations their country will have with other nations and other players.
Categories
Edit